Ladhamba Tayem; Future Continuous, ᤗᤠᤎᤠᤶᤒᤠ ᤋᤠᤕᤧᤶ, 2023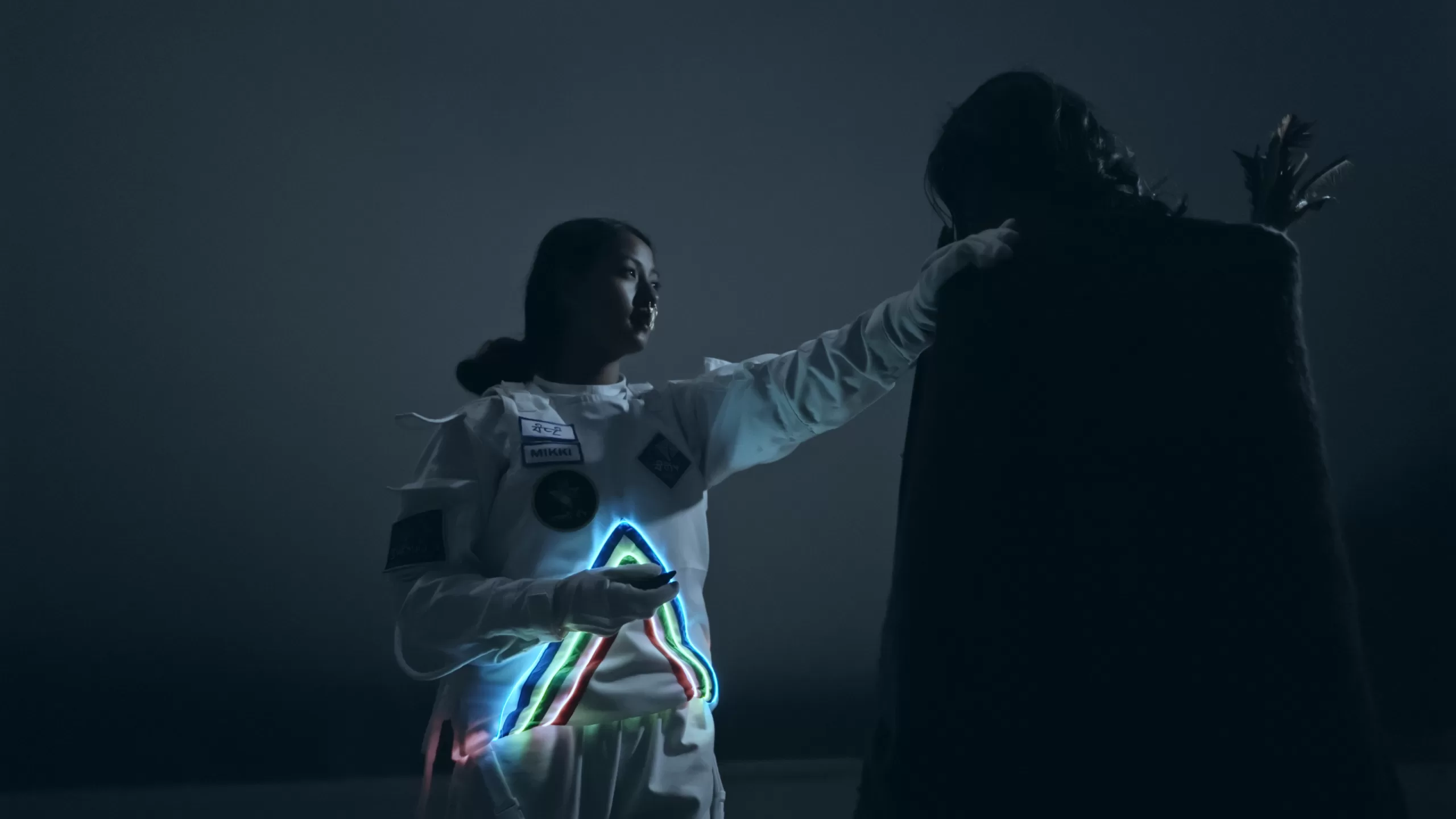 featuring Bimala Khajum Limbu as Mikki, the time traveller. Aasish Aveng Limbu as Kangsore, and Ashali Wanem Limbu as Kangsore's mother.
 Ladhamba Tayem; Future Continuous ᤗᤠᤎᤠᤶᤒᤠ ᤋᤠᤕᤧᤶ, a Yakthung science fiction audio visual work, the Grand Prix winner of 5th VH Award, 2023
more info on Hyundai Art Lab's VH Award and full film here https://artlab.hyundai.com/project/vh-award-5
The title of the work borrows from a verbal inflection that specifies time of action or state where 'Tayem' is future and 'Ladhamba' is continuous in the artist's native Yakthung (Limbu) language, spoken by the Yathkung people who are indigenous to northeastern Nepal. The plot depicts a conversation between two indigenous figures from different historical timelines, the first a real 18th century Yakthung warrior called Kangsore fighting the colonial army, and the other an astronaut and time traveler from the distant future. They discuss the space-time continuum from their perspectives, and in doing so, ask the viewers — who exist between the past and future — to investigate their own relationship to the passage of time. The time traveller indicates what the future might look like for us or possibilities we want to strive for, while the warrior reminds us of the fight against colonialism and struggles we shall overcome.
In the future, the Indigenous nationalities will have created a technique called thakthakma – which literally means to 'weave handloom', a term inspired by our ancestors' weaving practice – a technique of entering different timelines or in other words weaving time. So, in a way I think of my works as weaving stories that are not linear but intricately interwoven. And along the same vein, this work plays with the idea of time as not something rigid but ductile or weavable, which in turn paves the way for questions like how we might want to weave the future.
Ladhamba Tayem; Future Continuous was commissioned by Hyundai Motor Group VH Award.
Camera/Drones- Manish Maharjan. Line producer- Srijana Limbu. DoP- Shanta Nepali. VFX- Zoubein Rana @ElectricFX. Theme song vocals/composition- Jhuma Limbu. Theme song lyrics- Swapnil Smriti. Translations and consultant-Amar Tumyahang. Assistanat consultant- Mekh limbu. Sound mix- Bishwo Shahi. Additional drones/production assistant- Rashik Maharjan and Hari Bhakta Dangol. Suit design- Arati Subba. Suit production- Sanubabu Nepali.
.
Ningwasum, ᤏᤡᤱᤘᤠᤛᤢᤶ, 2021
ᤏᤡᤱᤘᤠᤛᤢᤶ
Ningwasum, 2021 is a Yakthung science fiction documentary film/video-work narrated by Miksam, a time traveller from future Indigenous Nation. Ningwasum follows two time travellers Miksam and Mingsoma, played by Subin Limbu and Shanta Nepali respectively, in the Himalayas weaving indigenous folk stories, culture, climate change and science fiction. The film explores notion of time, space and memory, how realities and the sense of now could be different for different community. Drawing from Adivasi Futurism and inspired by Afrofuturism and Indigenous Futurism, Ningwasum imagines a future from Indigenous perspective where they have agency, technology, sovereignty and also their indigenous knowledge, culture, ethics and storytelling still intact. see adivasi futurism here- https://www.academia.edu/43815250/Adi…
The work was mostly shot in Sherpa Nation, Yakthung Nation and Newa Nation, in what we currently know as nepal.
Ningwasum was premiered at APT10, THE 10TH ASIA PACIFIC TRIENNIAL OF CONTEMPORARY ART, at QAGOMA Queensland Art Gallery and Gallery of Modern Art, Brisbane Apart from APT10, it was screened at Kathmandu Triennale, Kathmandu (1 March 2022- 30 March 2022)
#AdivasiFuturism #Yakthung #IndigenousFuturism
.
Sound and Music – Aisha Devi, Amazumi, Bishwo Shahi and Subash Thebe Limbu
Script Translation- Amar Tumyahang
Spacesuit design- Arati Subba Spacesuit
production artist- Sanu Babu Nepali
Camera/Drones- Manish Maharjan
Still photographer- Manish Tamang
.
Parallax featuring Bhagat Subba, first premiered at Serendipity Arts Festival, Goa Dec. 2019, imagines indigenous narrative in futuristic scenario, where indigenous language, values and sense of belonging not only serve as cultural entity but also inspire scientific endeavours. It imagines a future where indigenous folk tales and shamanic chants will have totally different function with totally different purpose.
This work uses one of the few remaining indigenous scripts in practice today in Nepal. This Yakthung script belongs to my Limbu – also known as Yakthung – indigenous community from eastern Nepal, and the voice is an early 1991 recording from the first music album in Limbu language by Bhagat Subba. It was illegal to record and distribute indigenous music before 1989. Subba often mentions that he was denied to sing in his Limbu language in the national Radio Nepal when he passed his voice test in 1977.
This work also uses sound and images (especially of Sagittarius A*) from NASA' s archive.
.