subash thebe - artist latest paintings gallery
#metada
The Higher Powers Command: Draw Red Lines on The Upper Right Corner !
Oil on Stainless Steel
121.92 X 243.84 cm
2014
I have recently started my new series studying the perversion of the mainstream media, and how it is being used to control the thought of the masses by selective group of people and states to gain consent and get away with war crimes, let alone murders.
The process in making this new series still has its relation to music and spontaniety but now they are interrupted by thoughts and rhetoric that were and are being used to control the thought of the masses.
Most independent research has found that the
media are influenced by wealthy 
business and conservative interests. Now
when you have that power, the best technique is ignore all of that
discussion—ignore it totally—and to eliminate it by the simple device of
asserting the opposite. If you assert the opposite that eliminates mountains of
evidence demonstrating that what you're saying is false. 
- Noam Chomsky
The Making and Breaking of Portraits Julian Assange

Oil on Canvas

118X118cm

updated 07/02/2014
mainstream media on Assange
The third and the final subject of my Portrait Trilogy is the publisher of Wikileaks, Julian Assange, who has been taking refuge in the Ecuadorian embassy in London since 19 June 2012. He is wanted by the Swedish police for questioning regarding the alleged sexual assault – which he has claimed as false and politically motivated so the US could extradite and persecute him – with two women. He is holed up in the embassy in fear of being arrested by the UK government, sent to Sweden and eventually turned over to the US. No one apart from Assange and the women involved knows the truth, though the recent evidence published in the affidavit of Julian Assange shows that the women involved
did not want to put any charges on JA but that the police were keen on getting a grip on him...she was "chocked [sic: shocked] when they arrested JA because she only wanted him to take a test. The woman concerned told a friend that she felt that she had been "railroaded by police and others around her", according to the latter's police statement. According to the younger woman's phone records, who the 'rape' allegation is associated to, she wrote that she "did not want to accuse JA for anything"
The sex allegations could be totally false as suggested by the phone calls and SMS exchanged by the two women but to be honest that is not even important compared to the fact what Assange has been trying to achieve through Wikileaks. And my practice is focused mainly on the way the mainstream media has purported the views regarding his revelations. In the wake of the release of US diplomatic cables, Afghan war logs, Iraq war logs and most importantly, the Baghdad airstrike video "Collateral Murder" in April 2010, Assange has been torpedoed by allegations of "conspiracy," "high-tech terrorist" and "traitor" by the mainstream media in a scale that would shadow the actual facts, tragedy and crimes recorded on those files.
The Fox News commentator Bob Beckel during Follow the Money show, blatantly called for the assassination of Assange. Among the few captions used on the show was "ARE PEOPLE BEHIND WIKILEAKS HIGH-TECH TERRORISTS?" 6 December 2010
Tom Flanagan, a former aide to the Canadian Prime Minister, Stephen Harper, felt "very manly" calling for Assange assassination by using a drone on CBC News, 30 November 2010
In 2 December 2010, The Washington Times published an article "Assassinate Assange?" (the printed version had no ? mark) by Jeffrey T. Kuhner, who wrote Julian Assange poses a clear and present danger to American national security .......we should treat Mr. Assange the same way as other high-value terrorist targets.
In 29 October 2010, Jonah Goldberg, in The National Review, was reminiscing about the incredible competence on the part of intelligence agencies and asked why wasn't Assange garroted in his hotel room years ago?
Again from Fox News, K.T. McFarland, a Fox News National Security Analyst outlined the threat posed by Assange and his fellow hackers terrorists as not the contents of the leaked document but the fact that the U.S. government can no longer keep its secrets and should be prosecuted as terrorists and even called for the execution of Bradley Manning. 30 November 2010.
I do apologies if my theoretical background is too boring, but no worries, I have some refreshments from the "shut up" interviewer Bill who invites people in his talk show and do not let them talk. Enjoy! Bill on Assange Bill's Rage Against Assange Bill & Glenn on Wikileaks Bill getting himself owned by himself updated 8 Febrary 2014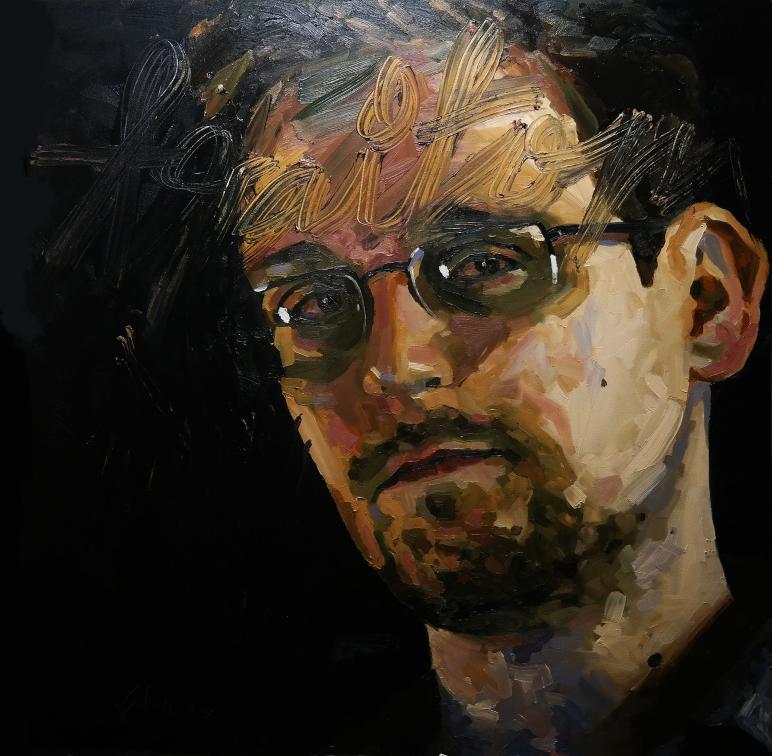 The Making and Breaking of Portraits Edward Snowden

Oil on Canvas

112X112cm

updated 29/10/2013
I have just uploaded my new short film, a second installment in The Portraits Trilogy;
The Making and Breaking of Portraits Edward Snowden.
This film refers to the unequivocal vilification of people like Edward Snowden by the mainstream media. 19/10/2013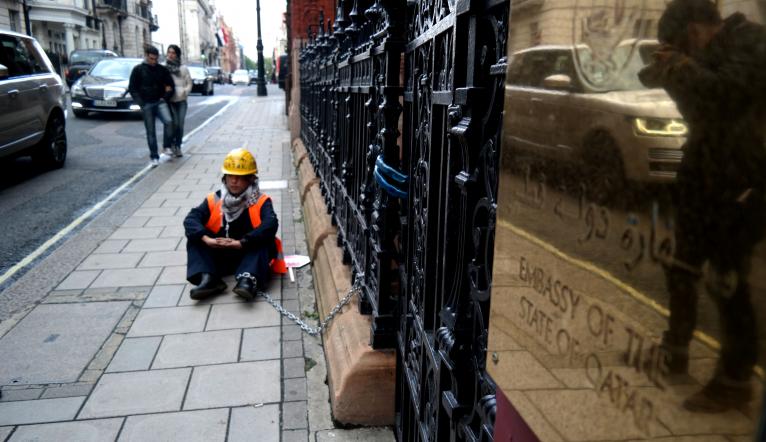 Kafala
Still from the performance art "Kafala" in front of Embassy of The Sate of Qatar, 11 October, 2013
In response to the abuse of migrant workers in Qatar, one of the richest country in the world, where migrant workers are chained to their sponsors through kafala system - that requires all unskilled labourers to have a sponsor, meaning migrant workers are unable to enter the country, leave it or change jobs without their company's permission - which sometimes seems to manifests itself as the modern form of slavery. The recent case of French footballer Zahir Belounis who is stranded in the State of Qatar after his employer denied to issue him an exit visa, shows the long menacing arm of kafala affecting not only the unskilled labourers from the third world countries but also the well paid football players and who knows may be the migrant CEO's and managers will be next.
Kafala
music: Nepathya (Rato ra Chandra Surya)
camera: Bikram Gurung
art performance during the protest against the abuse of migrant workers in Qatar, at the gates of Qatari Embassy, London (11 oct 2013)
Thousands of Nepalese migrant workers are working 
in Qatar under the inhumane legislation "kafala"
 - a system  that requires all unskilled 
labourers to have a sponsor, meaning migrant 
workers are unable to enter the country, 
leave it or change jobs without their company's 
permission - which sometimes seem 
to manifest itself as the modern form of 
slavery. 

According to The Guardian,
More than 400 Nepalese have died so far on Qatar
building sites since the Gulf state won the bid 
to host the World Cup 2022
and the number is still
rising. 
Thought Control Op. 5
Thought Control Op. 4
Thought Control Op. 4 follows the latest media coverage on American whistleblower Edward Snowden. The media has been successful enough to swerve the actual discourse - which of course is the leaks about how NSA is illegally and unconstitutionally spying on citizens of the world and its allies - to the manhunt of Mr. Snowden. Holed up in the transit zone of Moscow's Sheremetyevo International Airport for the past 23 days (today being 16th July 2013) he has been vilified and already branded as a "traitor" by the US government. Fox News wasted no time in inviting none other than Dick Cheney to spit out abomination, who said "I think he's a traitor. I think he has committed crimes, in effect, by violating agreements, given the position he had."
Obama, the greatest hypocrite of the century claimed, "
I am not going to be scrambling jets to get a 29 year-old hacker
," while speaking on a visit to the west African nation of Senegal. After few days, the presidential jet of Bolivia was forced to make an unscheduled stopover in Vienna after France, Portugal, Spain and Italy barred the aircraft from flying over their airspace. Bolivian president Morales was returning to Bolivia after a summit in Moscow when his plane was diverted towards Austria amid suspicions that Snowden was on board. It was no surprise as to who was behind the illegal "kidnapping" of Morales plane when the Spainish Minister of Foreign Affairs Jose Manuel Garcia-Margallo apologetically said that they were "
told that the information was clear, that he was inside
,"
updated 16/07/2013
Yet another rush to misjudgement.
CNN is coming under criticism after it falsely reported authorities had arrested a Boston Marathon bombing suspect, whom it had earlier described as a "dark-skinned male." Both claims turned out to be wrong. Earlier in the week the New York Post claimed a Saudi man was in custody for the blasts, only to later see authorities later say the man was a victim of the marathon attack.
text excerpt:
http://www.democracynow.org/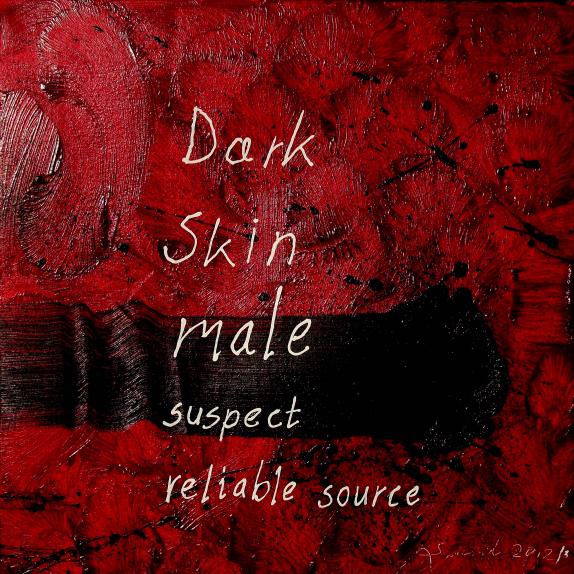 I am beginning my series by using the lines of the most promonent figure in war against "terror" This quote "we will lift this dark threat from our country and from the world" was uttered by Bush before invading Iraq and subsequently killing hundred of thousands of Iraqis and thousands of coalition forces. Needless to say that the threat was the State itself.
(updated 18/04/2013)
Oil and Acrylic on Canvas
Étude Op. 12
Acrylic & Oil on ready-made Frame
Étude Op. 11
Acrylic & Oil on ready-made Frame
Étude Op. 8 It's All About You Again !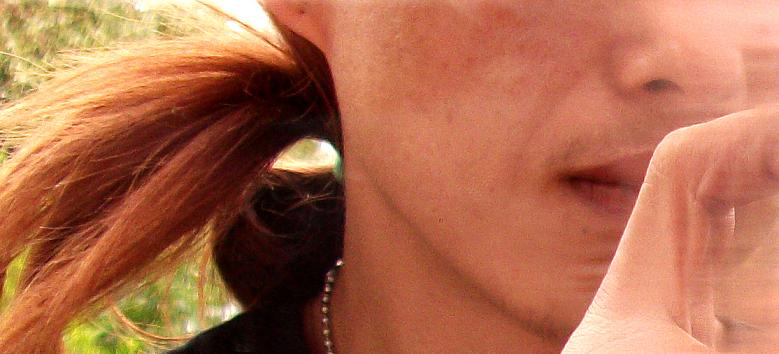 Étude Op. 7 It's All About You ! (close up)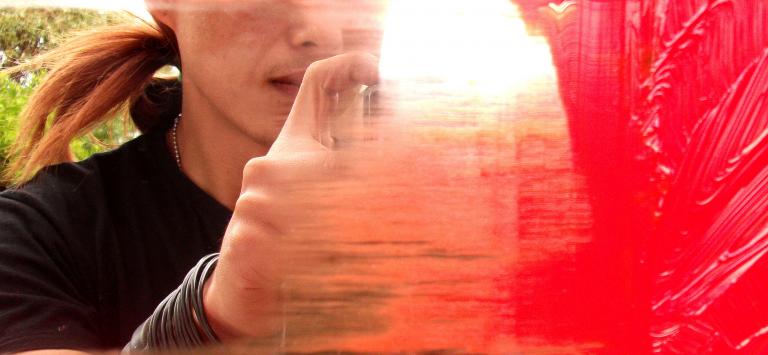 Étude Op. 7 It's All About You ! (close up)
Étude Op. 7 It's All About You ! (close up)
Étude Op. 7 It's All About You !
Oil on Mirror (39X49X3)cm
oil on brass
50 X 50 cm each
2011/2012
Soaring Spirit is inspired by the music of the same title by Rachel M Davis.
Rub My Back And I Will Give You Art
Interactive Active t-rex toy , ink and canvas
trex replaces the artist
trex has got sensors on its back and face , each time its touched or some movement made around, the toy becomes alive and squirts ink on
canvas creating an abstract expressionist painting if u like.
To buy Subash's work, go to Degreeart.com